HTC is one of the larger companies that promised a lot of their devices will get updates to the latest Android OS back then, the Ice Cream Sandwich. As with other versions of the OS, there are plenty of minor revisions that bring it up slightly from the version 4.0. The latest ICS Rom has a version number of 4.04.
The HTC One X was first announced in February this year. It is recognized as one of the devices that potentially rivals the Samsung Galaxy S3. The HTC One X used a Tegra 3 processor, for the international version and the same Snapdragon S4 that the Samsung Galaxy S3 had for the US, LTE compatible revisions. Pretty much most of the internal functions and features mirror the Samsung Galaxy S3 so much, that it could have been mistaken for each other if the external designs were not far apart.
The HTC One X came out earlier than the Samsung Galaxy S3, and was powered by Android 4.03. After quite some time, HTC finally released Ice Cream Sandwich version 4.04 for the device, porting over the stability fixes that the Samsung Galaxy S3 enjoyed since launch. The new version came with a tweaked version of Sense, possibly allowing more multitasking within the device.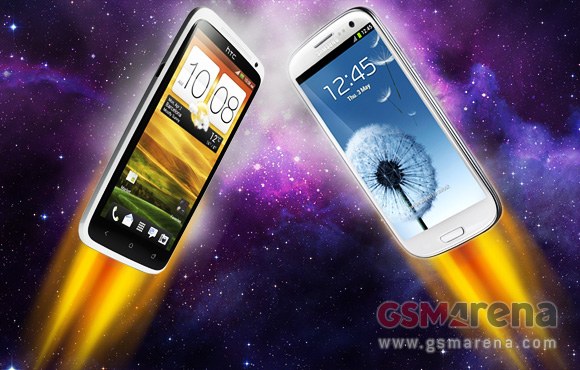 They have also remapped some keys, in response to user feedback. The multitasking key has become the menu key by default, but can still access the multitasking bar by using a long press.
They have also improved the camera, which was already noted to be superior to the Samsung Galaxy S3, which is a very welcome option for HTC fans that use the camera a lot. Overall, the device is smoother than the previous version.
In releasing this version of Ice Cream Sandwich for the HTC One X, they have also announced that they promise to update it to Jelly Bean, as well just like it's rival from Samsung. This should make the HTC One X a more desirable product than ever before. They also announced that the HTC One S and HTC One XL will also receive the said updates.
HTC reiterates that their promises for updates will indeed be fulfilled for all promised devices. Hopefully, HTC will maintain this image of keeping their devices up to date as much as possible with the newest releases of Android. While there are still some advantages of Samsung's flagship phone over HTC's, it is still a very powerful option in the market.
Image Sources: easternmorningherald.com, gsmarena.com