Just recently, I came across this funny little video on Google+ which shows a "Leaked" video pertaining to what the new iPhone 5 will become. Of course, it's a video that takes a jab at how people have replaced human connection with photo sharing and all that. It was a bit amusing to say the least, and not the first joke someone has cracked for an Apple device.
Then came Nikon with a product announcement about their new Coolpix S800c that made me run back to YouTube and try to find that video again. The video was posted at August 19. Could he have predicted a market that will change the future of point and shoot cameras? I don't know, but it might be true that Apple has a time machine!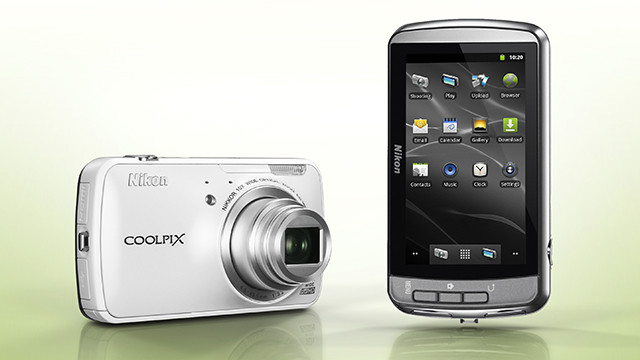 Nah, Android still had it first. Don't believe me? Read on my friend.
Nikon is planning to launch a revolutionary product with the code name Coolpix S800c. This camera might seem like an ordinary camera upfront, but don't be fooled. This is an Android device! It was announced to run Android 2.3 Gingerbread, which is kind of disappointing. You would think that the Nikon Android camera would at least be using the Ice Cream Sandwich 4.0, which has a lot of advances in imaging for Android devices.
The Nikon Coolpix S800c will have 16 megapixels with a 10x zoom capability, it can shoot 1080p videos, has Wi-Fi and GPS sensors, a 3.5-inch OLED touchscreen with a good 819,000-dot resolution, and of course, SD card support. Looking at this product, I thought that Nikon was the first to be able to do this. Did you think so too? We're both wrong.
The Coolpix s800c is but a finished product that will be the first to hit the market, but the idea was originally Polaroid's. Polaroid produced a product demo of the Polaroid SC1630 Smart Camera. It also sports a 16 megapixel camera, with only 3X optical zoom, a 3.2 inch 800×400 display, 512MB RAM with 512MB on board storage, as well as a Micro SD slot.
The coolest thing about this idea from Polaroid was it included a sim slot too, which effectively allows you to use cellular data on the camera. Don't hope for phone capabilities. Polaroid only designed it for 3G sharing for your awesome photos. This beats the Nikon Coolpix s800c which can only connect via Wi-Fi.
Both of these devices are awesome, but there is one more competitor who wants to join in on the fun. Surprise, surprise! Samsung is on the case as usual. The leak only spoke of a 16-megapixel sensor, a pop-out Xenon flash, 10x zoom capability, and will feature both 3G and Wi-Fi connectivity options.
It will apparently be announced at the coming IFA, so look out for that, along with the Samsung Galaxy Note, and other Samsung devices.
If you ask me, Samsung has the advantage here. They are already making cameras, and are very successful in Android devices. You can do the math. They are already describing Samsung's new device as a Camera with a Galaxy S3 slapped on it.
With Android, sharing will always be easy, and apps will keep you busy if you are not taking photos at that moment. Looking to score a camera this year? Why not make it an Android powered camera?
Image sources: YouTube.com, CNN.com, gsmarena.com, electricpig.co.uk