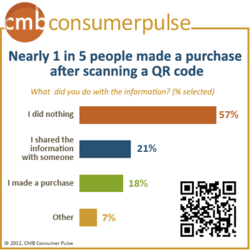 A recent Consumer Pulse study of over 1,200 U.S. consumers conducted by Boston-based custom research firm, Chadwick Martin Bailey (CMB) and iModerate Research Technologies, looked at how people are using QR codes and what they're looking for when they scan. The study also looks at what will motivate consumers to make it part of their purchase process.
Quick Response, or QR codes, are everywhere from print advertisements to public transportation and websites, and while only 21% know QR codes by name, nearly all respondents reported having seen the ubiquitous black and white squares. For smartphone owners, whose devices are capable of scanning the code, QR codes are becoming a part of the purchase process. Half of smartphone owners surveyed had scanned a QR code, and nearly 20% of them made a purchase after scanning, indicating a willingness to make QR codes part of the purchase process for tech-savvy shoppers.
"Consumers are curious about QR codes and the information they can get," notes Jeff McKenna, Senior Consultant at Chadwick Martin Bailey. "But companies need to understand what consumers expect from a scan whether it's more information, a coupon, or exclusive offer. Companies who use QR codes successfully to drive engagement or sales will be those who meet customer expectations and offer compelling reasons to scan."
The study also looked at ease of use, with 70% of those who scanned finding scanning to be a very easy process. Results were more mixed when respondents were asked to rate the usefulness of the information they got from scanning the code, only 41% reported the information they got to be useful.
As QR codes and similar technologies allow companies to engage customers closer to the point of sale, manufacturers will begin to take advantage of its growing role in the purchase process.
Image credits prweb.com